Grown Ups #1 Movie CLIP – Breast Feeding (2010) HD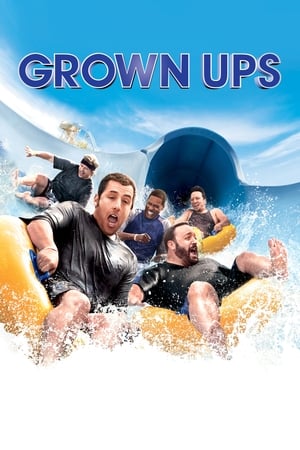 Grown Ups
Overview
After their high school basketball coach passes away, five good friends and former teammates reunite for a Fourth of July holiday weekend.
Cast

Adam Sandler

Kevin James
Chris Rock
David Spade
Rob Schneider

Salma Hayek

Maria Bello

Maya Rudolph

Steve Buscemi

Colin Quinn

Tim Meadows
Madison Riley
Jamie Chung

Ashley Loren

Cameron Boyce

Nadji Jeter

China Anne McClain
Frank Gingerich
Morgan Gingerich

Ebony Jo-Ann
Sadie Sandler

Jackie Sandler

Richie Minervini

Norm Macdonald
Crew

Dennis Dugan

Adam Sandler
Fred Wolf
CLIP DESCRIPTION:
Kurt (Chris Rock) is astounded to see that Eric's (Kevin James) son still breastfeeds at the age of four.
FILM DESCRIPTION:
Thirty years after graduating from high school, five former basketball teammates gather at the lake house where they celebrated their biggest victory to mourn the passing of their late coach. Over the course of the Fourth of July weekend, the five friends realize that just because they've all grown up and started families doesn't mean that they've lost that old spark. Adulthood is what you make of it, and no one at the lake house is eager to be the grown-up of the gang. Adam Sandler, Chris Rock, Kevin James, David Spade, and Rob Schneider star in a film written by Sandler and Fred Wolf, and directed by Dennis Dugan (I Now Pronounce You Chuck & Larry, You Don't Mess with the Zohan). Maria Bello, Salma Hayek, and Maya Rudolph co-star.
CREDITS:
TM & © Sony (2010)
Cast: Frank Gingerich, Morgan Gingerich, Kevin James, Chris Rock, Maria Bello, Salma Hayek, Ada-nicole Sanger
Director: Dennis Dugan
Producers: Barry Bernardi, Allen Covert, Kevin Grady, Tim Herlihy, Jack Giarraputo, Steve Koren, Adam Sandler
Screenwriters: Adam Sandler, Fred Wolf
Click to rate!
[Total:

1

Average:

3

]